Regular price
Sale price
$69.95
Unit price
per
LIMITED OFFER: SAVE Liquid error (snippets/price line 88): divided by 0%
Sold out
Our new SAW® fat burner means GAME OVER for stubborn fat. Proven ingredients work synergistically to provide powerful fat burning and appetite suppressing benefits. Expand each ingredient below to see what makes SAW® fat burner capsules unlike ANY weight loss supplement you've ever treid.  

Caffeine content from all sources: 295mg 

Niacin may cause flushing, itching or burning sensations of the skin within twenty minutes after taking. Individuals with a history of ulcer, gallbladder or liver disease should consult their physician before use. 
LEGAL DISCLAIMER
Statements regarding dietary supplements have not been evaluated by the FDA and are not intended to diagnose, treat, cure, or prevent any disease or health condition.
L-Tyrosine

L-Tyrosine s an amino acid and tyrosine might play a role in improving both mood and physical performance in those who supplement with tyrosine.
Caffeine Matrix

Our Caffeine Matrix includes three different froms of caffeine that, combined, provide a fast acting, hard hitting and long lasting energy curve, without "crashes" or "jitters".

Caffeie anhydrous is the processed, dehydrated form of caffeine. It's a potent form of powdered caffeine, making it an efficient way to supplement caffeine.

Infinergy® Di-caffeine Malate Is a form of caffeine that is buffered and may be easier on the stomach. It also helps with longer lasting energy as well as preventing the dreaded "crash" people may experience from caffeine use, in turn providing more steady energy.

Caffeine Citrate is also buffered to allow for slower absorption, resulting in a longer energy curve.

Caffeine may potentially suppress appetite and stimulate thermogenesis, may increase alertness, improve mental alertness, speed reasoning, and improve memory.
Yerba Mate

Yerba mate powder is made from Ilex paraguariensis plant. Yerba mate contains several beneficial plant compounds, including xanthines, saponins, caffeoyl derivatives and polyphenols. These groups of compounds, combined, provide health-promoting antioxidants as well as anti-inflammatory and cholesterol-lowering properties. Yerba mate also contains several other important micronutrients, including vitamin C, thiamine, riboflavin, and vitamin B6. Plus, it provides some potassium, calcium, magnesium, phosphorus, manganese, and iron. Yerba Mate contains many beneficial compounds and nutrients that make it an antioxidant powerhouse. Some research suggests that yerba mate may help support weight management and could be effective for reducing body weight, belly fat, and body mass index. Yerba mate may
boost metabolism
GABA

GABA (Gamma Aminobutyric) is an amino acid that exists in the brain and acts as an inhibitory eurotransmitter in the central nervous system. Researchers have concluded that GABA supplements might help build muscle and assist in workout recovery. GABA supplements are also sometimes used by athletes to increase muscle mass, reduce percentages of body fat. Several studies have demonstrated that GABA increases growth hormone in the body and suggest that this does lead to improved strength gains following a strength program as a result.
Rauwolscine

Rauwolscine (Alpha Yohimbine) has many benefits. It may be taken for boosting fat loss, since Rauwolscine may increase fat burning by blocking alpha-2 receptors. Rauwolscine has also been shown to improve physical performance, as well as enhance libido and sexual function.
Niacin

Niacin, also known as vitamin B3, is an important nutrient that
every part of your body needs to function properly. As a supplement, niacin may help lower cholesterol and boost brain function. Niacin may help to improve your blood fat levels by increasing your good (HDL) cholesterol, decreasing your bad (LDL) cholesterol, and reducing your triglyceride levels. Your brain also needs niacin as a part of the coenzymes NAD and NADP to get energy and function properly.
AMPiberry®

AMPiberry® (Juniperus communis (berry)) - Ampiberry®️ is a natural ingredient thathas been proven to enhance energy levels and focus during workouts. It works by increasing the absorption of other ingredients in the pre-workout formula and reducing the rate at which they are metabolized. This results in a longer lasting and more effective workout. Insane Labz has trademarked the use of Ampiberry®️ in their pre-workout products. This means that no other brand can use this ingredient in their formulas, ensuring that Insane Labz customers are getting a unique and effective product. The ingredients in Psychotic® work together to increase endurance as well as enhance strength and mental focus during workouts. If you're looking for a pre-workout that is backed by science and contains unique and effective ingredients, Insane Labz is the way to go. Our use of Ampiberry®️ sets them apart from other brands and ensures that you'll getthe most out of your workout.
Share
View full details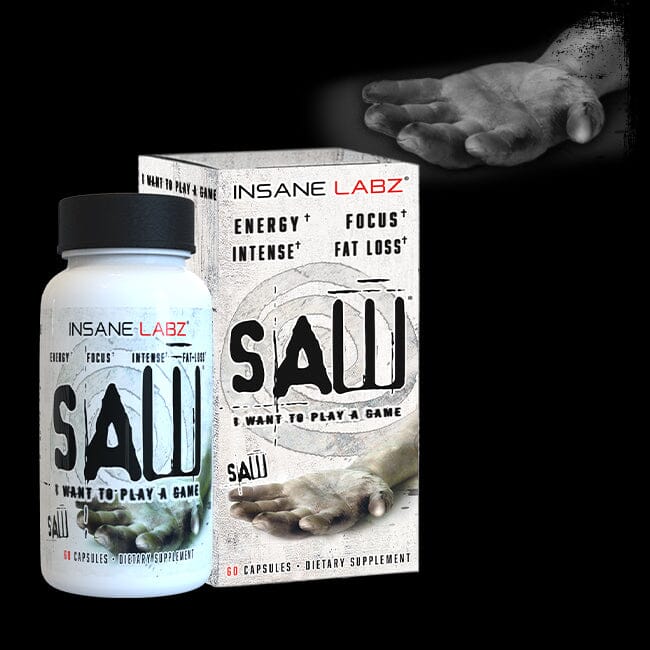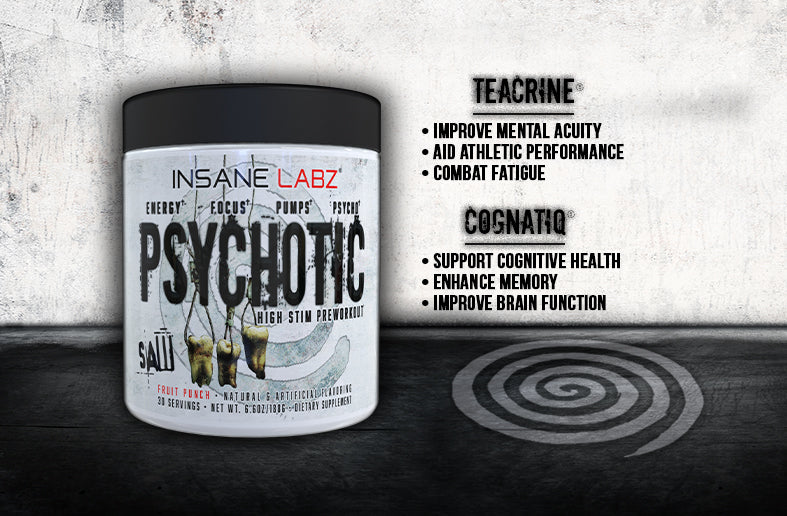 PSYCHOTIC SAW
Psychotic SAW is the most INSANE preworkout ever made by the Mad Chemist and his team at Insane Labz. They've packed the formula FULL of ingredients that work together to give you everything you need to KILL it in the gym!  Below, expand each of these ingredients to learn what makes Psychotic SAW different than any preworkout you've ever tried!   
SHOP PSYCHOTIC SAW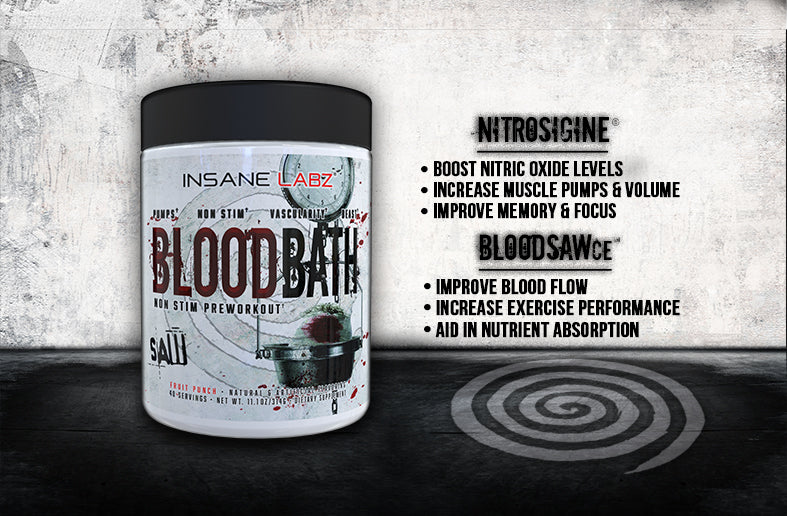 BLOODBATH
Bloodbath™ is the newest pump pre workout from Insane Labz®. Flooding your veins with blood delivers the additional oxygen necessary to maximize performance and removes metabolic byproducts and excess heat. Clinical Doses (for advanced users, 20 svgs) of proven ingredients like Agmatine Sulfate, L-Citrulline Malate and Betaine Anhydrous to aid in NO production, increase stamina and aid creatine synthesis. Trademarked ingredients like Nitrosigine® to flood the veins and OxyGold® to aid in bioavailability ensure that BLOODBATH™ is like no other pump product on the market.
SHOP BLOODBATH